Mastering studio
In 2015 the studio was relocated from Copenhagen to the island of Funen. 25 minutes from Odense or 1 hour and 45 minutes from Aarhus or Copenhagen. The studio is now integrated with a beautifully restored country estate on 5 acres of land.

The studio is a fine-tuned analog mastering room, built from the ground up, with hidden acoustic dampening in the walls. The studio is IEC and EBU/ITU specifications approved.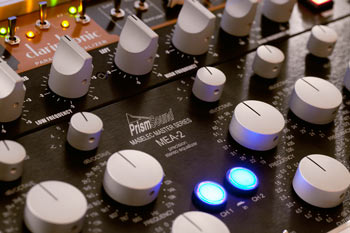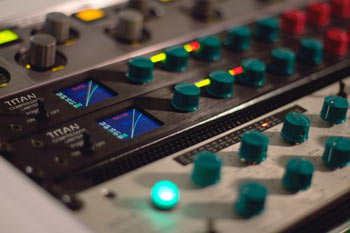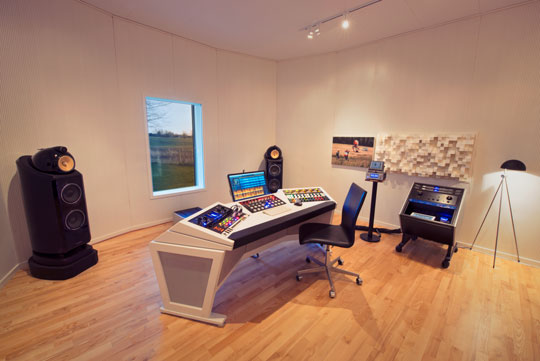 group_work
Analog chain
Black Box Analog Design HG-2
Prism Sound Maselec MEA-2
Dangerous Music BAX
Summit Audio EQ-200 Neve Element 78
Foote Control Systems P3S ME Class A
Crane Song STC-8/M
Dave Hill Designs Titan (2 units)
Dangerous Music Liaison
Warm Audio WA76 (for stems)
Elberg MP-2 (for stems)
settings_input_hdmi
Digital processing
Bifrost Audio Mastering Soft Clipper
Ozone Advanced Maximizer
TC System 6000 Native MD4 HD
FabFilter Pro-L 2
FabFilter Pro-MB
Flux Solera
Tone Projects Unisum
Tone Projects Kelvin
Tone Projects Michelangelo
UAD + Waves + Softube plug-ins
speaker
Monitoring
Bowers & Wilkins 802 Diamonds
Audiophonics HPA-S400ET Sparkos
2400 Audio Imperium NG MUW
Trinnov ST2 Pro
Blueroom Minipods
Audiophonics HPA-S400ET
Sennheiser HD650
Beyerdynamic DT-770 Pro
TC Electronic Clarity M
Aurchitect Spectre
album
Other equipment
Pro-Ject Debut
Pro-Ject The Phono Box
Ortofon Night Club E + OM5E
Sony CDP-XB920 QS
nOb control
Sterling Modular custom-built desk
Sterling Modular raised face-up side rack
equalizer
Converters & DAW
Lynx Hilo Reference AD/DA converter
Universal Audio UAD-2 Satellite Quad-Core
Apple Mac mini M2 8 Core
Sonoris DDP Creator with OEM player
DSP-Quattro
Logic Pro X
Izotope RX Advanced
power
Power
Furman P-1400 AR E conditioner (2 units)

Electricity is 100% carbon neutral energy from nuclear power
wifi
Internet
1/1 Gbits connection and server
nature_people
Inspiration
Provided by nature
Gear Grotto
Picks from my YouTube channel about pro audio
Technique
The Mastering Compressor
Here I explain the advanced functions in a mastering compressor.

The flexible TDR Kotelnikov GE compressor serves as the basis of these lessons.

However, the video is relevant to anybody who already understands dynamic compression, but wants to learn more.
Review
2400 Audio Imperium monitor controller
An audio chain is only as strong as its weakest link.

Imperium from 2400 Audio uses a unique passive design with switches. It is free from noise and has perfect stereo tracking.

This video also compares passive versus active monitoring, impedance, and cable length.
Review
Black Box Analog Design HG-2
The HG-2 from Black Box Analog Design is a tube saturator used on the mix bus or during mastering.

By adding harmonic overtones to the mix the HG-2 can bring life into a sterile mix.

This in-depth video also looks into even and odd order harmonics, tubes vs. transistors and digital plug-ins.